AA Customs Shop (AA Customs Inc.)
Gunsmith and Custom services Currently Offered
Gun Candy Certified Applicator - Click the LOGO to see all of the Chameleon/Solid colors available. Gun Candy can be added to any project capable of accepting a clearcoat finish. Colors can vary depending on the desired base coat. Our facility utilizes Cerakote Performance Clear products to ensure your Gun Candy finish will not fade over time.
Cerakote™ Coating Applicator
Hydro Dipping Certified Applicator
Basic & Advanced Cleaning
Custom Kydex
Barrel Threading
Stippling
CNC Machining - Chips are flying
Grip Modification
Glock Certified Armorer
Full Service Gunsmith
Laser Etching & Engraving
Turn around time on Custom work is to 2-4 weeks Currently
Call Or Email For pricing and current lead time!!!
Simple & Advanced Designs
Facebook (Gallery 1) (Gallery 2)
Instagram (Gallery 1)
Our YouTube Channel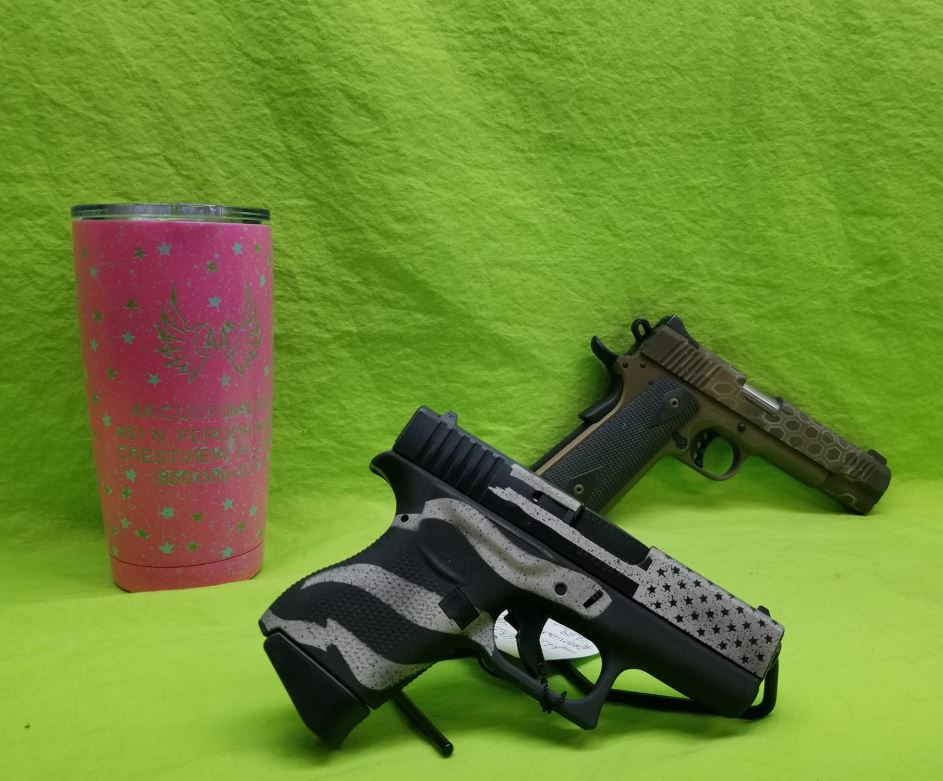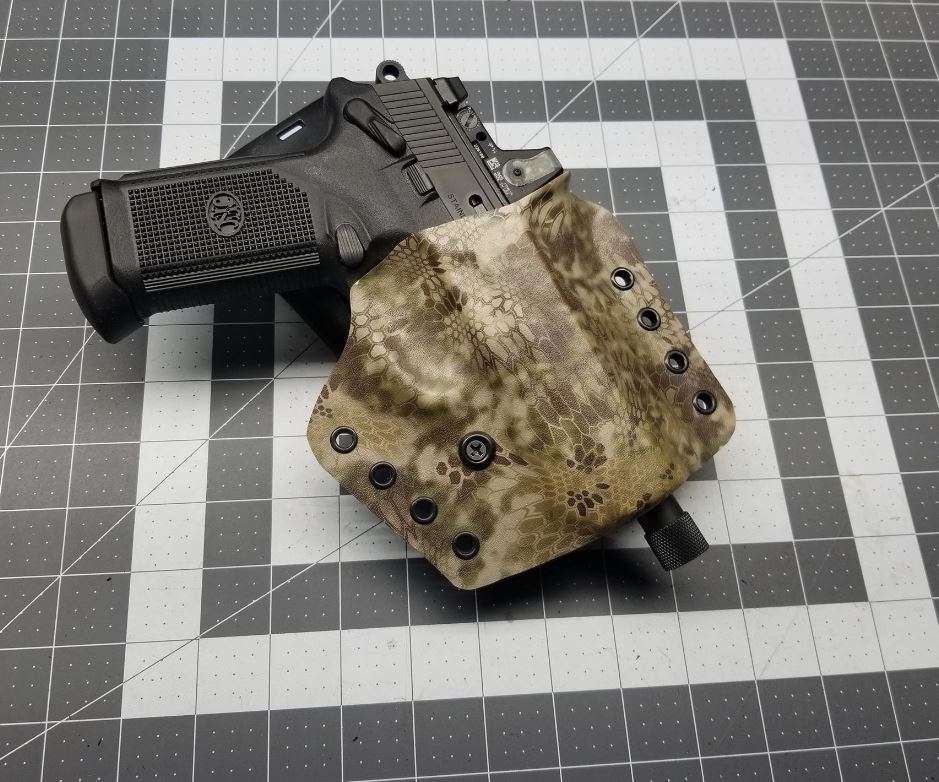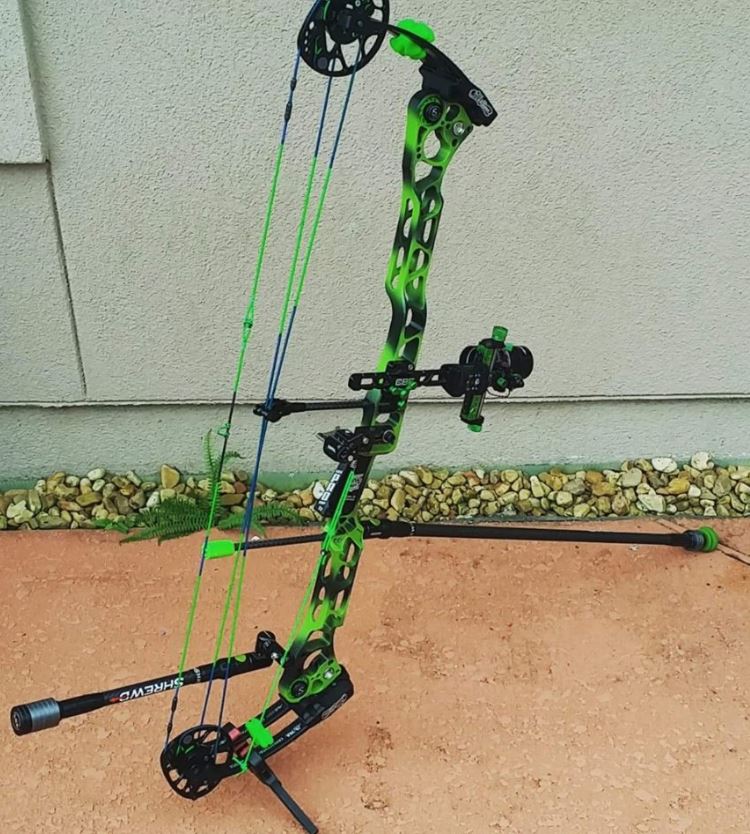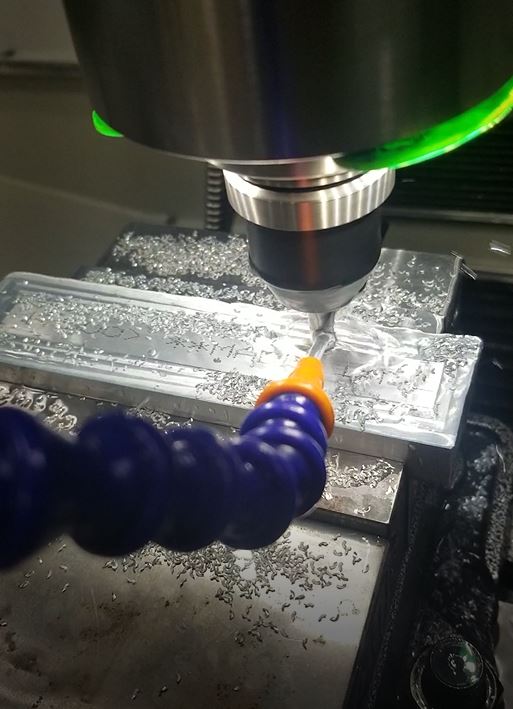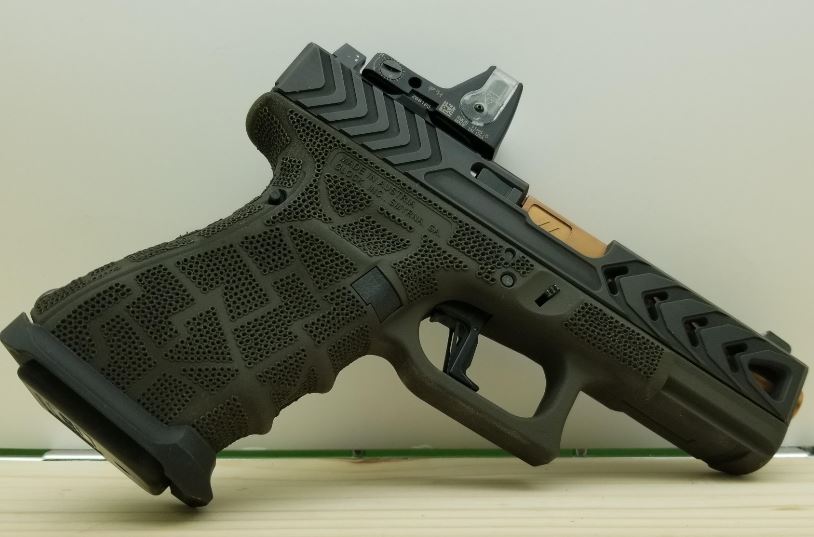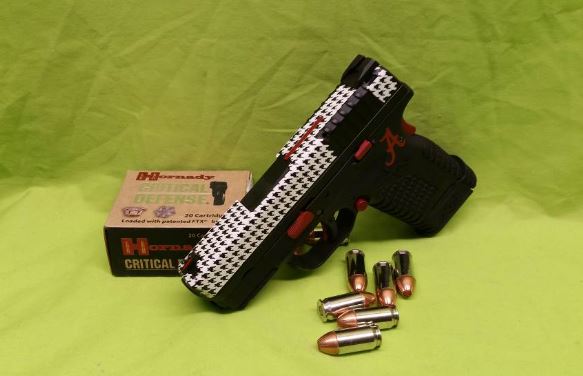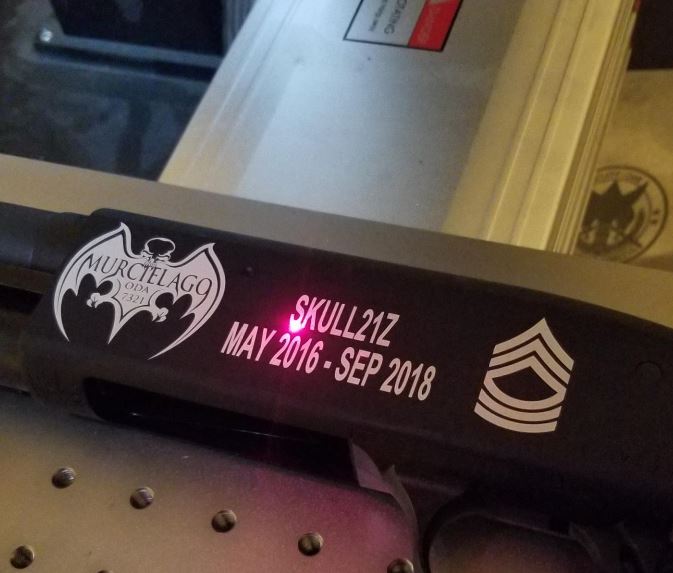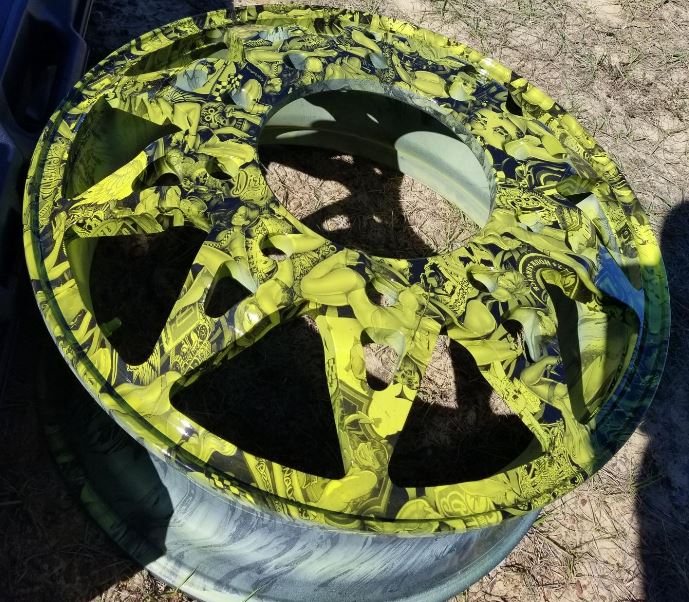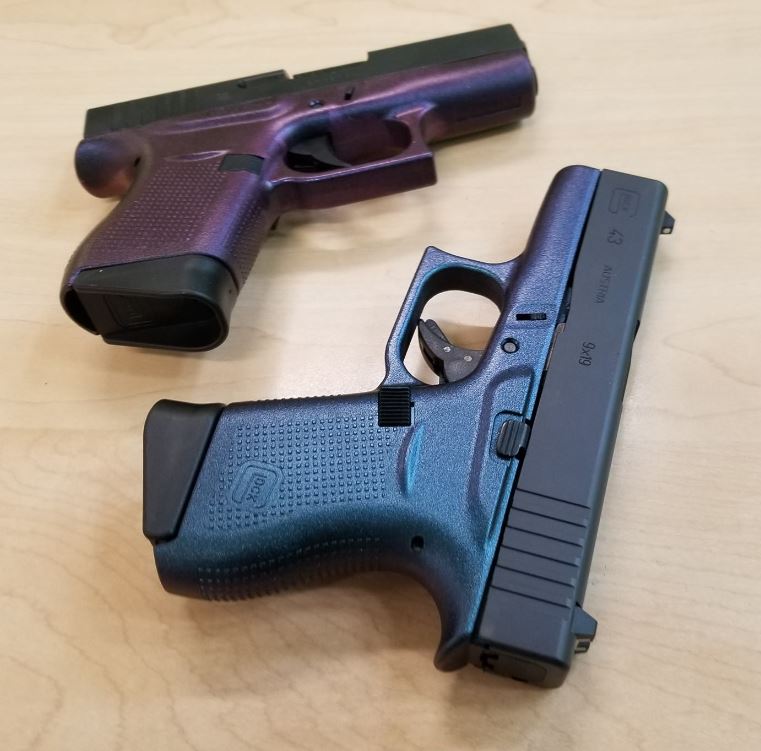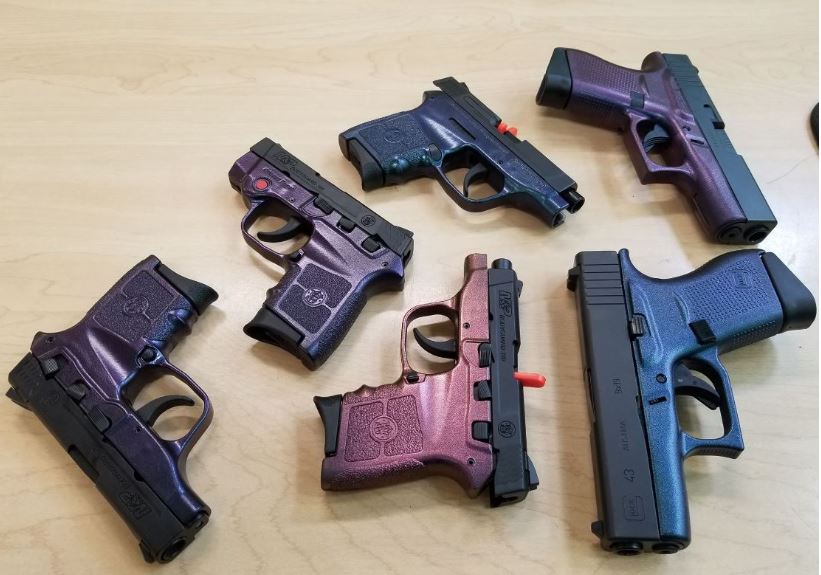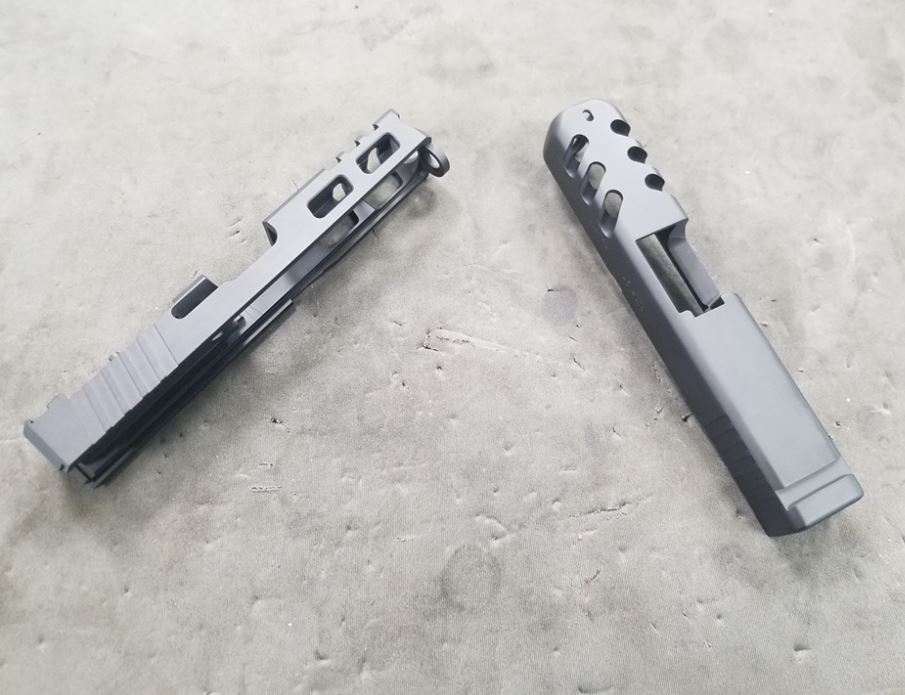 Cerakote™ Colors: Please view Color Gallery to see all of the color Options
Gun Candy Colors: Please view Color Gallery to see all of the color Options
Hydro Patterns: Please view Pattern Gallery to see all of the color Options
Kydex Patterns: Please view Pattern Gallery to see all of the color Options
COATING SERVICE DETAILS: ABOUT CERAKOTE™
If you want the very best coating available, look no further. NIC Industries developed Cerakote™, Inc. Cerakote™ designed to provide a high quality, lasting finish, with high corrosion protection and durability. Cerakote™ is available in two compounds, "C" series, which is an ambient cure coating and "H" series, which is a thermal cure coating. Unlike Teflon based gun coatings, the "C" and "H" series of Cerakote™ offer unparalleled levels of hardness and abrasion resistance because of their unique ceramic backbone. Cerakote™ is available in 31 standard colors; it provides excellent corrosion protection, outstanding abrasion resistance, extreme hardness, & unmatched durability. Cerakote™ surpasses Teflon based coatings for wear resistance by well over 60%. Cerakote™ has self-lubricating elements incorporated throughout the coatings matrix. This allows firearms to function with little or no fluid lubricants that typically attract abrasive dust particles. Cerakote™ performs extremely well in automatics with high cyclic rates.
Disassembly and Reassembly fees will be assessed for the Cerakote™ process. Pricing will range from $50 - $75 depending on the type of firearm and level of difficulty. Firearms will undergo an Inspection and Functions Check prior to acceptance from AA Customs Inc. Both parties must agree on the condition of the firearm.
The manufacturers' specifications critical to the function of the firearms or high-flex parts such as sears, springs, bores, or chambers will not undergo the Cerakote™ process. Due to sensitivity of heat, scopes and other optics will not be media blasted.
NIC Industries, Cerakote™ advanced ceramic firearms coatings, are the finest on the market today and outperform all other coatings in virtually every performance metric. These coatings have been extensively tested by manufacturers, independent labs and the U.S. Military. Cerakote™ is used by OEM's such as SIG Sauer, FN, Colt, S&W, Nighthawk Custom, Thompson Center, Nosler, Benchmade, Emerson and a growing list of others.
Cerakote™ ceramic coatings can be used to coat a wide range of substrates including all metals, including titanium, aluminum, magnesium, etc, as well as most plastics and polymers used in firearms frames, stocks and high-quality accessories. Special coatings are available for tight tolerance, high-wear, internal parts, such as bolts, bolt carriers, barrels, bushings, etc and for high-temp applications up to 1700°, such as suppressors and machinegun barrels. Contact us for specific application requirements and coating solutions.
In addition, unlike virtually all "plating" types of finishes which only come in a silver or black color, Cerakote is available in a wide range of colors and can be applied in multi-color camouflage patterns.
CERAKOTE STANDARD PERFORMANCE METRICS:
RUST RESISTANCE: Cerakote™ finishes have been tested in salt spray and full emersion and have withstood beyond 3,000 hours in salt spray and hundreds of hours in full emersion testing. These results outperform other finishes by over 10x. This makes Cerakote™ finishes the clear choice for marine environments and other environments subject to high humidity and salt water environments.
WEAR RESISTANCE: Cerakote™ finishes can withstand over 5,000 (5,212) wear cycles per mil (.0001). The Tabor wear test uses an 8" abrasive wheel applied to a metal plate coated with 1 mil thickness of the Cerakote coating. In addition, Cerakote's Coefficient of Friction is 80% less than stainless steel against stainless steel. So, when one or both moving parts of a firearm are coated you can expect a significantly longer product duty cycle or service life.
ADHESION: Cerakote finishes have an ASTM D3359 rating of 5B and can withstand a 180° mandrel bend rotation test around a 1/4" mandrel and a ball bearing impact test of 160 inch-lbs with no cracking or loss of adhesion. This is significant performance given Cerakote's 9H pencil hardness, which is the highest hardness rating in the scale.
HARDNESS AND SCRATCH RESISTANCE: ASTM D3363 is a 9H pencil hardness and 6H scratch resistance.
FILM THICKNESS: 1.0 mil (Cerakote DFAC "Dry Film Anti-Carbon" is .25 to .50 mil)
Cerakote H-Series:
H-Series is the most durable of the standard Cerakote family of coatings and provides the best performance in hardness, wear and scratch resistance, adhesion and rust resistance. It can withstand heat up to 500f – 600f degrees and comes in the widest range of colors. Therefore, we use the H-Series wherever possible. However, it's a two-part heat cure finish and therefore cannot be applied to optics and other items or substrates which cannot, or should not be cured at the required temperatures.
Cerakote™ C-Series:
For high-temp applications up to 1700°, such as suppressors and machine gun barrels, Cerakote™ CSeries has no equal. It's available in a wide range of colors to match the overall finish requirement of the firearm or weapons system. We also use C-Series to coat scopes and other optics, as well as fiberglass and items and substrates which cannot be baked. It is not as durable as the H-Series and is less scratch and wear resistant. The primary application is optics, electronics and fiberglass stocks which cannot be hear cured.
Cerakote DFAC™ (Dry Film Anti-Carbon)
Is a dry film ceramic coating with special properties and attributes specially suited to tight tolerance applications and high-wear internal parts, such as bolts, bolt carriers, barrels and 1911 barrel bushings, etc… Cerakote DFAC™ penetrates the metal substrate and therefore adds minimal (.25 to .50 mil) thickness. DFAC™ came out of NIC's industry leading Micro Dyne automotive and turbine coatings division where it has been used successfully for many years to coat automotive pistons, cylinder walls and turbine blades, etc.
Colors - Patterns and Special Designs:
COLORS: We can coat firearms, weapons systems, optics edged weapons or other equipment in the full range of available Cerakote colors and types. Projects can be done as single color, two-color and multicolor as well as basic and complex camouflage and custom airbrush designs.
SHEEN: Cerakote H-Series can be blended to achieve a range of sheen from flat to a more glossy finish. Please be sure to specify what level of gloss you are looking for on your project. There are no additional charges for adjusting sheen.
CUSTOM COLORS: In addition, we work directly with NIC to create custom colors for specialized requirements. A color sample or Pantone color code is required and 30 to 60 days lead time. Additional charges apply.
CAMOUFLAGE PATTERNS
AA Customs Inc. specializes in the application of camouflage patterns on all weapons systems and components. Not happy with current patterns and methods, AA Customs Inc. has developed a series of highly effective camouflage patterns specifically designed to maximize both visible and IR signature reduction of weapons systems using the Cerakote weapons coatings. Our blend shuns traditional stencils and patterns, because the human eye and brain can spot uniformity and patterns. Blend application is unique to each firearm or item coated. It's primary goals are to break-up the weapons signature, thus concealing the capabilities of the operator or unit, second to blend with the operators clothing and gear and third, to provide blending with the terrain.

Our blend varieties lack of a defined pattern can be considered "Chaos Theory" for camouflage. Through the use of carefully selected Cerakote colors, applied with a weapons and color specific methodology using special stencils and techniques we are able to achieve highly effective visible signature management and using NIC's new Cerakote Gen II, we can also add IR signature management capabilities for Military and Law Enforcement customers.
CUSTOM LOGOS - STENCILS AND DESIGNS:
AA Customs Inc. can apply department, agency, unit and corporate logos and other custom designs to your firearms using out in-house custom stenciling or laser etching/engraving services. Designs can be applied as a contrasting color or done as a reverse and imbedded into camouflage patterns, etc
Call or contact us for custom quotes on your specific coating requirements.
Armorer Disassembly, Cleaning, Reassembly and Function Check:
As part of our services, our factory certified armorers (Glock, SIG-Sauer, Colt, Remington, etc) fully disassemble, inspect, clean, and prepare the parts for coating. After cleaning, parts must be blasted with an abrasive media, typically fine aluminum oxide, to prepare the substrates for coating, which is necessary achieve maximum adhesion of the ceramic to the parts and provide the best long term results. After coating, we reassemble and do the standard function tests specified by the manufacturer for each specific firearm or weapons system, where the complete firearm or system was sent. We do not do live-fire function testing unless specifically specified by the customer, for which additional charges would apply.
Tight Tolerance Parts and Markings: We do not coat sears, springs, bores/chambers or other tolerance critical or high-flex parts. In addition, we do not media blast scopes or other optics and as a result there will not be as good an adhesion of the Cerakote to those items.
TOLERANCE:
For standard firearms applications it is often inadvisable to coat both pins and pin holes, as the resulting one (1) mil thickness of the coating when applied to rounded surfaces creates increase of two (2) mil to the part tolerance and four (4) mil (.004) when both hole and pin are coated. This is also applicable to auto-pistol slide and frame fit, such as on tight-fitting 1911's. We typically plug or mask holes and pins and only coat the pin ends. However, we can coat pins and holes and then custom fit these parts after coating for an additional charge. We recommend hand fitting and lapping for 1911 pistol slides and frames as this will yield a precision fit and can help to tighten looser fitting slide/frame combos.
MARKINGS:
For receivers, frames, slides, picatinny rails which have painted on or lightly laser etched markings these markings will be lost during the surface preparation and coating unless they are machine engraved or stamped. If these markings are of great importance we can mask over them, but those areas in and immediately around the markings will not be coated and, as such, will not blend. Manufacturers serial numbers will be masked at no additional charge where needed or coated where possible. Some manufacturer model numbers, name etc which are laser engraved will either be masked over or re-engraved with machine engraving. We do not charge for the masking, but do charge for the reengraving. This is per BATFE (ATF) regulations. Please consult us for specific requirements.
Custom Shop Shipping and Processing:
First off you will need a copy of our FFL to drop into your package. You can grab that Here….OUR FFL
We will email you Shipping/Statement of Work Documentation. A copy of the documentation will be included within your package
We prefer to receive fully assembled, UNLOADED, firearms or weapons systems. If you send a disassembled gun, weapons system or gun parts and accessories, you MUST include an itemized list. AA Customs Inc. will not be responsible for lost parts or items if no itemized list is included with your shipment.
AA Tactical Inc. our partner company is a federally licensed firearms manufacturer, therefore individuals can ship handguns or long guns to for coating and we can return these items to you directly, unless prohibited by your specific jurisdiction. NFA weapons and suppressors can also be sent, but require special paperwork and accommodations. Please call us for NFA items.

Customers are expected to cover shipping charges to AA Tactical Inc., located in Crestview, FL.(32536) and items can be shipped either by UPS, FedEx or U.S. Postal Service, depending on whether you are a dealer, agency or individual. We will return to you by best method depending on whether it is a handgun or long gun and the requested return service. Return shipping and handling will be charged to the customer at the time of shipping. If you need a quote in advance please call. All of the above listed carriers post their full policies, procedures and/or regulations for shipping firearms to licensed dealers on their respective websites. You may also call their customer service departments with any specific questions you may have regarding shipping your firearms. CHECK THE REGULATIONS BEFORE YOU SHIP – They change… The following is provided for your convenience:
UPS:
www.ups.com (General)
PHONE: 1-800-PICK-UPS (742-5877) Customer Service
http://www.ups.com/content/us/en/resources/ship/packaging/guidelines/firearms.html?srch_pos=1(Shipping firearms, policy and procedure)
FedEx:
http://fedex.com/us/ (General)
http://www.fedex.com/us/terms/express-ground/ (Firearms Shipping – Policy)
PHONE: 1-800-GoFedEx 1-800-463-3339 (Customer Support)
USPS:
www.usps.com (General)
http://www.usps.com/forms/_pdf/ps1508.pdf (Firearms Shipping Form)
PHONE: 1-800-ASK-USPS (1-800-275-8777)